What's New with our Traveling Theater

We're Headed to . . . . !
Stay tuned!

New Kiddie Magic-Lantern Show for Young Children
Our shows at The Singapore International Children's Festival were unexpectedly advertised for ages 2 and up, so we unexpectedly found ourselves with audiences that were much younger than those we usually perform for. Making a virtue of necessity, on the spot we created a new version of our Sea Show for very young children. We performed it twice a day for a week, to enthusiastic applause. Building on that success, we now offer a new Kiddie Show, especially for ages 3-5. It features such classic Victorian stories for young children as "Alice in Wonderland," plus songs like "Old McDonald" and "Row, Row Your Boat," and, of course, lots of hilarious animated comics. Our recent performances of it at the National Gallery of Art in Washington, D. C. were a smash success.

American History Show for School Matinees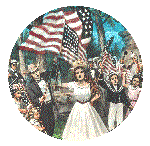 Our American History Show for theater matinees is packing them in. We had 3,000 students come to see the show in tiny Dallas, NC, largely due to the marketing genius of Jeff Pruett, our host at the Gaston County Museum. We've studied his marketing techniques, and are now ready to duplicate his success anywhere in the country. The show is particularly appropriate for elementary students, as it ties directly to state Social Studies Curriculum Standards. For details, click here.


Funding Now Available
We're pleased to announce that our traveling theater has been accepted to The Artist Roster of the Connecticut Commission on Culture and Tourism which makes us available for Commission funding in the Connecticut, and consequently for funding throughout New England through The New England Foundation on the Arts. We really appreciate the support of these organizations! If you're not in New England we may be able to help with Humanities Council funding elsewhere. Call or email.


Draft Completed on two Books
Terry has finally completed Before the Movies: American Magic-Lantern Shows and the Nation's First Great Screen Artist, Joseph Boggs Beale, and a rough draft of a companion book, Cinema Before Film: Victorian Magic Lantern Shows and America's First Great Screen Artist, Joseph Boggs Beale.

The first book, Before the Movies, is a scholarly reference book, detailing all of Beale's 2086 lantern slides, and comparing Beale with his peers.

The second book, Cinema Before Film, is for the general public and should be completed in another two years. It will show the continuity of cinema art, from the magic-lantern to the movies, with special emphasis on the work of Beale, whose slides are featured in our shows. The book is written for anyone interested in the movies, using a lively style that draws upon our experiences giving shows as well as 19th century material. But it also contains extensive notes for scholars, since much that it discusses has not been written about before. To request information on publication, click here. Now available as an illustrated lecture.

More Film-Festival Shows
As more people gain an understanding of the critical role of magic-lantern shows in the early history of cinema, we are getting more and more attention from organizations interested in film. Bookings in the past, or coming up include:

Lincoln Center, Reel to Real Series, New York, NY
American Society of Cinephiles -- Hollywood, CA
Maryland Film Festival -- Baltimore, MD
Egyptian Theatre, American Cinematheque -- Hollywood, CA
Cleveland Cinematheque, Cleveland, OH
Getty Museum, Los Angeles, CA
Domitor Early Film Conference, Montreal, Canada
Catamont Film Center, St. Johnsbury, VT
Coolidge Theater, Boston, MA
Jacob Burns Film Center, Pleasantville, NY

For some of these performances we simply do one of our shows, with a little additional commentary. For others we add our illustrated lecture, Cinema Before Film, based on the book of that title that Terry is working on. Request book ordering information.